Noah Steinfeld MC '14
Noah Steinfeld MC '14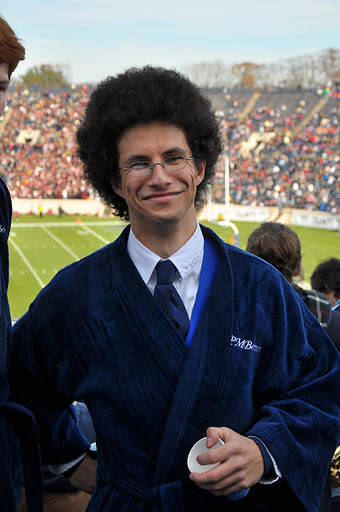 Born in the snowy tundra of Buffalo, NY, Noah is no stranger to the harsh conditions football season often brings. His large and highly recognizable hair protects him from the harsh wind and cold of Hahvard. People also seem to like touching his hair. You can feel free to touch it too!
As a lifelong sports fan, it was inevitable that Noah would join the YPMB if only to cheer on all of Yale's athletic teams. Along the way, Noah has made countless friends and memories and has previously served as the Head Heckler, Trombone Section Leader, and Social Chair.
When he isn't managing the YPMB, Noah can usually be found watching How I Met Your Mother or Modern Family, working in the Morse College Master's Office, or walking up and down science hill. As an MB&B major, Noah is extremely interested in exploring recent advances in disease treatment and prevention and plans on having a career in scientific research one day.
Though he sometimes misses playing his trombone epically loud, Noah loves his job standing at the helm of the YPMB with whiteboard in hand.