The Manager
Patrick Cherry, GH '21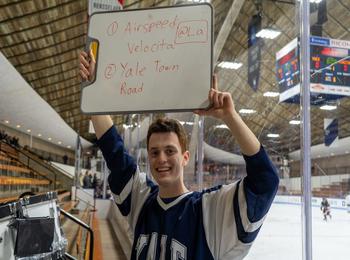 Patrick is a born and raised Connecticutian, hailing from the "city" of Danbury, CT. He is a passionate Chemical Engineering undergrad. Despite his strong affiliations with STEM, he still has a soft spot for listening to, getting lost in, and playing music.
Before earning the privilege of being manager, Patrick kept the Band fed, hydrated, happy, and energized as social chair. He also ecstatically played the baritone horn since day one his first-year; luckily, he joined the Band the year it got two new baritones for the only two baritone players it has seen in years. Ashtar itself blessed him with his own instrument. While he's sad to put it away for now, it's even MORE exciting to be the manager.
You can now find Patrick at helm of the Band either dancing, wielding the whiteboard, or restlessly waiting for the next time the Band gets to play. He's out there leading with an enthusiastic and inviting smile for all the adoring fans (but mostly for all the members of).
Outside of the YPMB, if it's a sunny day, don't be surprised to see him out and about harnessing the eternal power of the sun. He has a burning desire to work in the green energy industry, making the world a cleaner place for the future YPMB. He also works as a CCE, making the campus a more enjoyable, fun, and inclusive space for the broader Yale community.
Feel free to reach out to Patrick at patrick.cherry@yale.edu; he's always happy to talk about the Band (or anything else for that matter). He's excited to hear from you!
---