The Drum Major
Brook Smith JE '25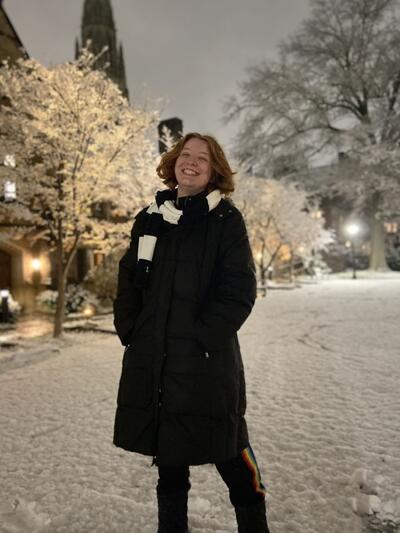 Brook is from rural Virginia, in the heart of Appalachia, so naturally their first act as drum major was to give the band an arrangement of "Take Me Home, Country Roads." They continue to stand by this choice.
Brook is double majoring in Political Science and Women's, Gender, and Sexuality Studies to fuel their masochistic love for American politics. When not reading, writing papers about the reading, or drum majoring, Brook can be found advocating for voting policies from campus voting accessibility to ranked choice voting. They are obsessed with democracy, perhaps to a fault. 
Previously, Brook has played the glockenspiel (it's like a little metal xylophone!) in the YPMB and served as a section leader for the Squaangs, the world's best mass of musical misfits. The YPMB is hands-down their favorite organization on campus, and they'd love to tell you why! Reach out to brook.smith@yale.edu anytime!
---