Kebra Sedam SM '13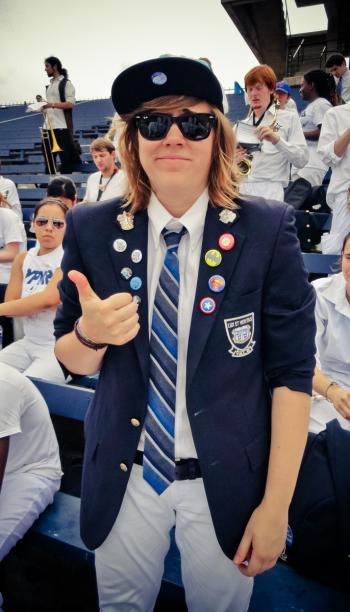 Known not only for her love of "emo" music but also for her love of high-top sneakers and plaid, Kebra Sedam is a West Coast transplant from sunny Southern California (Los Angeles, to be exact). Even as a young child, Kebra, not to be confused with Zebra, knew she was destined for greatness. When at home with her family and closest friends, Kebra enjoys drifting (think Fast and the Furious), drinking lattes, and acting like a typical Californian. Yale was an obvious choice for Kebra because she knew the YPMB would be her ticket to fame!
You may be thinking: "Hey, this Kebra girl looks familiar." Well you are correct! Kebra has served as: the Freshmen Representative in '09-'10 (affectionately known as FRep), a Kappa Banga Banga Section Leader in '10 (there is never enough cowbell), and as Social Chair during the '11 season. Besides some other unofficial positions along the way (what's a Singing Bus Leader?), Kebra has successfully worked her way up the food chain and now specializes in making sure the band always has enough pizza. However, she can sometimes be found banging' a drum for old time's sake when she isn't finalizing poncho counts on rainy days.
When she isn't managing the YPMB, Kebra can usually be found playing guitar or wearing baseball hats in Silliman. Occasionally, during designated hours, Kebra attends classes and diligently works on homework. As an American Studies major, Kebra is interested in the intersection of politics, religion, and minority groups in small-town America. Ask her about being American sometime.
As a young woman, Kebra played competitive basketball for ten years and rose to the challenge of cutthroat athletics through perseverance and hard work. She now channels her athletic tendencies and game-like tenacity into her job as YPMB manager. Whether she is answering emails, holding up a whiteboard, or making sure everyone is happy, Kebra does her job with swiftness, pride, and massive swag. If you ever need help with a problem, have a question about anything, or just need a hug, Kebra is the right person to find.