Andi Zhou JE '13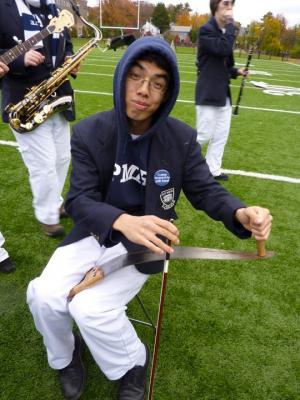 A son of engineers, Andi Zhou was supposed to aspire to greater things than to wave his arms in front of people. But after matriculating at Yale and discovering the YPMB, Andi was condemned to an eternity of music-making and fun-having with his best friends. 
Andi began his career with the YPMB wielding not an instrument, but a weapon – the musical saw, which cut down the enemy with brazen non-instrumentiness and took the YPMB's performance of the middle section of the Star Spangled Banner to new screeching heights. He also began to arrange songs for the YPMB and went on to serve two seasons as Head Student Arranger, during which time he contributed over 50 arrangements, trained new arrangers and committed many unspeakable crimes such as writing a swing-band version of the Pussycat Doll's hallowed work, "Don't Cha."
In between engagements with the YPMB, Andi will occasionally attend classes as a Global Affairs and Music double major. He can also be found playing piano for the improv comedy group Just Add Water and slapping the keyboard with his funk band, A Streetcar Named Funk.