Yale Concert Band Roster 2023-24
Piccolo
Salena Huang YSEAS '26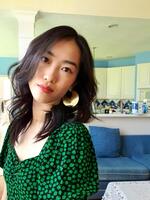 Salena is a 4th year PhD student from Houston in the Department of Mechanical Engineering and Materials Science. She has been playing flute for over 18 years and piccolo for 11 years. In addition to the flute and piccolo, Salena enjoys singing and playing keyboard and guitar. Outside of music, she also enjoys sewing, photography, and learning new languages.
Flute
Tiffany Jiang MED '27, Principal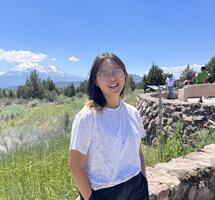 Tiffany is a first year medical student from Plano, Texas. She studied music and biology in undergrad and loves to play chamber music with friends! She also enjoys playing video games, trying new snacks, and hanging out with her three cats (Cinnamon, Nutmeg, and Pepper).
Emily He DC '24
Emily He is a senior in Davenport College majoring in intensive Molecular, Cellular, and Developmental Biology on a pre-med track. Emily grew up in the Hyde Park neighborhood of Chicago and has been playing the flute since she was ten. She was a member of the Chicago Youth Symphony Orchestra for six years and enjoys ensemble playing more than anything else. When she is not in band rehearsal or researching cancer immunotherapies, you can find her biking or crying to movies.
Julien Yang TC '27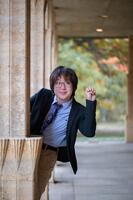 Julien is a first-year in Trumbull from Ann Arbor, Michigan. He says he will study history, but in reality he has no idea and wants to try everything. He has played the flute for eight years. In his rare free time, he enjoys strategy games, Wikipedia-diving and midnight walks around campus. Most importantly though, he really, really loves cats. He lives with three of them at home and they're the love of his life.
Allie Gruber PC '26
Allie is a first year in Pierson College. She has been playing the flute for ten years but has yet to establish a consistent practice routine! She plans to major in literature or a language. Aside from playing the flute, Allie loves jamming it out on the alto (or bari) saxophone. Coming from London, she is enthralled by the great American breakfast, so on a Saturday morning you can usually find her eating a hearty brunch of pancakes, waffles - and generally anything doused in syrup!
Noah Brazer MED '27
Alliese Bonner BK '27
Alliese is currently a freshman in Berkeley College and is interested in pursuing music as well as mathematics and philosophy. She was born and raised in Mount Juliet, Tennessee, a suburb of Nashville, and has been playing flute for seven years. Alliese was a member of the Nashville Youth Orchestra Program for five years and is a proud alum of the Nashville Symphony's Accelerando Program. Along with playing flute and piccolo, she sings as a soprano 1 in the Yale Glee Club and has a passion for opera. She also loves vintage clothes, sewing, cycling, and her two Siamese cats.
Zoe Frost MY '27
Peter Nelson JE '26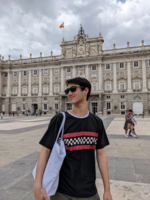 Peter Nelson (he/him) is a second-year student from Sacramento, California, and he finally knows what he's doing in life! Potentially double majoring, he is interested in both biology and mathematics. Outside of school, Peter enjoys playing the flute in band, playing volleyball at Payne Whitney, and eating food with friends. He is excited to be part of YCB again this year!
Lisa Huang SOM '24
Mei Hao YSEAS '28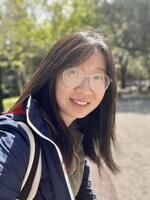 Mei is a second-year PhD student in Mechanical Engineering. She started playing the flute 17 years ago but may or may not have paused practicing for a few years in between. She enjoys playing in band and is always happy to meet new friends interested in music. When not in class, in lab, in lab, in lab, or playing music, she puts her time into painting, RPG games, and cooking.
Oboe
Miranda Margulis-Ohnuma BR '23, Principal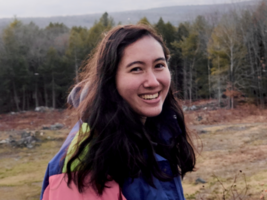 Miranda Margulis-Ohnuma is a (super) senior in Branford studying Earth and Planetary Sciences on the paleontology track. A longtime member of the band community, she is excited to be working as one of the General Managers during her last semester at Yale (Fall 2023). Miranda also currently performs with the Yale Symphony Orchestra and Low Strung (Yale's all-cello rock band) and studies cello with Professor Ole Akahoshi. In her free time she likes to hike and look at fossils.
Ana Rodrigues BR '25
Ana is a sophomore in Branford College majoring in the History of Art and Urban Studies. Other extracurriculars outside of band that Ana is involved in include Yale Matriculate and the student guide program for the Yale Center for British Art. Ana loves long walks in great weather with friends, so if you're ever trying to track Ana down on a Saturday morning, definitely check the Wooster Square farmer's market first for best results. Also, her favorite campus library is Haas, and that's not up for debate.
Sophia Graham DC '26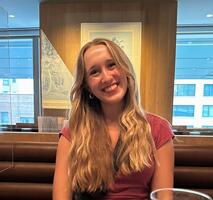 Sophia Graham is a sophomore in Davenport studying economics who is so excited for another year in the YCB oboe section! She's from Grosse Pointe Woods, Michigan, and has played in ensembles such as the Detroit Symphony Youth Orchestra and the Michigan All-State Orchestra. Outside of band, Sophia can be found tap dancing with Taps At Yale, Homegoods-ifying her common room, running, enjoying too many Panera charged lemonades, and cracking jokes with her amazing suitemates.
Sophia Dauerman BK '25
Sophia is a first-year in Davenport from Michigan who is so thrilled to be joining the YCB oboe section! When she's not busy stressing out over her reeds, you can find Sophia biking around New Haven, rehearsing with DPops, shuffling with Yale Taps, or simply hanging out with her 8 amazing suitemates.
English Horn
Ana Rodrigues BR '25
Ana is a sophomore in Branford College majoring in the History of Art and Urban Studies. Other extracurriculars outside of band that Ana is involved in include Yale Matriculate and the student guide program for the Yale Center for British Art. Ana loves long walks in great weather with friends, so if you're ever trying to track Ana down on a Saturday morning, definitely check the Wooster Square farmer's market first for best results. Also, her favorite campus library is Haas, and that's not up for debate.
Eb Clarinet
Clarinet
Ben Swinchoski BF '25, Keith L. Wilson Principal Clarinet Chair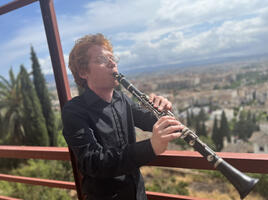 Ben Swinchoski is a '24.5 neuroscience major from Wall, New Jersey in Benjamin Franklin College. He studies clarinet with Amer Hasan and plays in the Yale Undergraduate Chamber Orchestra. Ben also co-directs the Yale Mental Health Student Association, and is a research assistant and the manager of the Yale Visual Cognitive Neuroscience lab. Furthermore, he works at the Connecticut Mental Health Center Behavioral Health Home through the Dwight Hall Community Mental Health Fellowship program. Outside of studying, playing music, and thinking about mental health policy, you might find Ben playing Mario Kart, ping-pong, or foosball. 
Margalit Patry-Martin GH '24
Margalit Patry-Martin is a junior in Grace Hopper majoring in Music and History of Science, Medicine, and Public Health. She's been playing clarinet for around 13 years, 10 of which were spent at the Norwalk Youth Symphony (where she was coincidentally the third principal clarinetist in a row to go to Yale!). When she's not playing clarinet you can probably find her practicing organ in the basement of Woolsey, nerding out about history with the Feminist Science and Tech Studies club, or drawing trees around campus.
Michael Ying BK '24
Michael is a junior in Berkeley majoring in S&DS. He grew up in Dallas but went to an international high school in Shanghai, China. Playing clarinet in band festivals with other international students has brought him around the world to places like Salzburg and Myanmar. When not rehearsing with the concert band, he might be found performing movie music with DPops, playing table tennis, watching premier league highlights, grinding out problem sets, or really wanting to go to Japan.
Joshua Chen SY '27
Joshua is a first-year in Saybrook College. He has been playing the clarinet for nine years and loves playing in wind bands, symphonic orchestras, chamber groups, and pit orchestras. He's planning on majoring in something STEM but has no idea what he wants to do beyond that. In his free time, he enjoys playing soccer, running, and hanging out with his twin brother, Kyle, and his friends.
Daniel Denney ES '24
Daniel is a Junior in Ezra Stiles majoring in MB&B. Growing up in Medford, Oregon, he has played clarinet for 8 years, participating in various school and honor bands around his state, including the Western International Band Clinic. In addition to band, Daniel enjoys trying out new lattes around New Haven and conducts research investigating non-canonical coreceptor binding in the Wnt Signaling Pathway at the Yale Cancer Biology Institute.
Avery Maples PC '26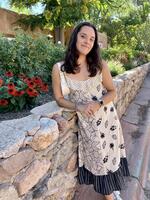 Avery is a Sophomore in Pierson College studying Ethnicity, Race, and Migration. She calls the mountains of Western North Carolina her home. Avery has been playing the clarinet for 9 years and has had the opportunity to perform with ensembles across the United States and in Europe.
Sebastian Papa BR '27
Peilin Lu PC '26
Peilin is a first-year in Pierson College planning to study Ethics, Politics, & Economics or Ethnicity, Race, & Migration. She has been playing clarinet for eight years in wind ensembles and chamber groups, and is thrilled to continue her Squidwardian journey as a part of YCB. In addition to being part of the band, Peilin also enjoys participating in the Yale Policy Institute, Model United Nations, and Asian American Students Alliance. In her free time, Peilin can be found going on coffee runs with friends, binge-watching the latest K-drama, and forcibly converting cat people with pictures of her dog, Hector.
Jessica Liu GH '25
Jessica plays the clarinet and is a sophomore in Grace Hopper College.
Meiling Laurence BF '26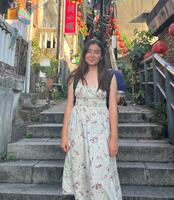 Meiling is a sophomore in Franklin studying math! She's from Long Island, New York, and has been playing the clarinet for 10 years. When not in band, Meiling can be found playing intense rounds of 4 v. 4 foosball in the Franklin basement with her friends.
Amalee Bowen GSEAS '28
Bassoon
Darius Farhoumand YSM '24
Winfred Felton YSM '24
Alto Saxophone
Dennis Lee DC '24, Principal
Lizzie Seward DC '27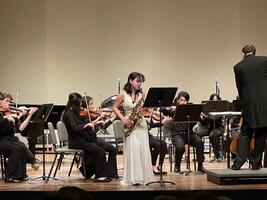 Lizzie Seward is a first year in Davenport College. She is from just outside of Boston and went to high school in the city. She has been playing the alto saxophone for almost 10 years, and loves both jazz and classical music (find her in YCB and YJE!). She plans to be an Electrical Engineering and Computer Science major, and when she's not practicing, you can find her at vintage markets, conducting quantum computing research, and hastily writing her Directed Studies papers.
Jesse Mullins MY '27
Tenor Saxophone
Esteban Figueroa MC '25
Amal Dhanesh SM '27
Baritone Saxophone
Aaron Yu MC '25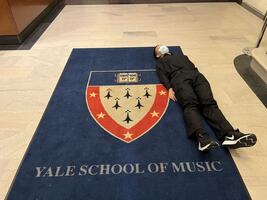 Aaron is a junior in Morse majoring in computer science and applied math. He is from Atlanta and has played the saxophone for 10 years. Aaron has played in the Yale Concert Band, the Yale Jazz Ensemble, DPops, Berkeley College Orchestra, the Yale Symphony Orchestra (very briefly), and various saxophone ensembles. When he's not playing music, you can find him playing unnecessarily complicated card games, walking around campus really fast, or rating Yale floors near you.
Cornet/Trumpet
Jared (J.J.) Wyetzner PC '27, Principal
Aidan Garcia MC '26
Kyle Chen SY '27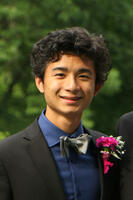 Kyle Chen is a first year student at Saybrook College from Guilford, CT.
His fascination with music began at a young age, watching the Yale Bands perform. Now, as a new member of the Yale Concert Band, Kyle is excited to transition from being an audience member to taking the stage.
Kyle has performed in jazz bands, concert bands, and orchestras, including the New Haven Youth Symphony Orchestra and is blessed to have been mentored by great directors and teachers.
Although currently undecided, Kyle is considering a future in mechanical engineering, biomedical engineering, or pursuing a pre-medical track.
Izzy Lopez MY '23
Hunter Robbins SM '27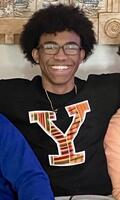 Hi everyone! I'm Hunter and I am from East Providence, Rhode Island. I am currently a first year in Silliman college. I have been playing trumpet for eight years and currently play in YCB as well as YGC, or Yale Gospel Choir. Aside from music, I intend on pursuing Psychology as my major with a possible Education Studies or Human Rights Certificate. I am also involved with the Black affinity groups on campus such as BMU and BSAY, while also being a member of the Yale Club Roundnet Competitive Team. Additionally, I plan on writing for the Yale Human Rights Journal this Fall!
French Horn
Rory Bricca ES '26
Rory Bricca is a sophomore in Ezra Stiles from Tucson, AZ. A Music major, he plays the piano, French horn, and percussion in various ensembles across campus. But composing music is his real passion, and his piece "Dance of Deceit" will be premiered by the Yale Concert Band on December 1! He also enjoys spending time in nature and thinking deeply about what is ultimately valuable in life.
Miriam Huerta BF '24
Shell Ross GH '26
Andres Luengo TC '27
Kate Hall ES '26
Kate plays the French horn and is a first year in Ezra Stiles College. She is planning to major in Mechanical Engineering. She loves hiking, hockey, and music. She also likes math and running cross country, both of which are completely normal and not weird, no matter what other people say. She is from Texas, where she participated in her school's marching and concert bands, and was a drum major her senior year. She is also involved with Danceworks, the Rural Students Alliance at Yale, and Rocket in the Yale Undergraduate Aerospace Association. When not playing French Horn, you can find her either doing psets or causing problems at duty night.
Trombone
Theo Haaks BR '24, Principal
Theo Haaks is a junior from Wisconsin, majoring in Political Science with a concentration in urbanism. He has been playing Trombone for nearly nine years and also assists the band as a General Manager. In addition to playing trombone, Theo serves as a Dwight Hall Urban Fellow at DesegregateCT, works for the Yale Bird-Friendly Building Initiative, and is a part of the FOOT leader community. He also enjoys hiking outdoors with his friends and pickleballing with the Branford Intramural Pickleball team.
Cody Uman MC '25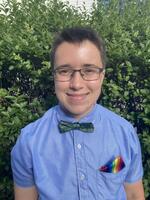 Cody is a junior in Morse College, majoring in mathematics. They are currently the manager of the Yale Precision Marching Band, and also play sousaphone. Academically, they are interested in math, math education, and foreign languages. Outside of school, they like to ice skate, make origami, and listen to musical theater.
Max Watzky BF '27
Nathan Lange SY '27
Euphonium
John Liu TD '25, Principal
John plays the Euphonium and is a sophomore in Timothy Dwight College.
Lily Hyde TC '27
Anna Calkins MC '27
Anna is a first-year in Morse College, also referred to as the best college. A retired pianist and trumpeter, she has been playing the euphonium for 6 years. When not in rehearsal, you can find her in the music library, the pool, or at City Climbs. Coming from the great city of Chicago, she has begun extensive, exhaustive research into how New Haven's various pizzas measure up to deep dish.
Tuba
Benson Wang BK '27, Principal
Benson Wang is an Economics and Computer Science Major at Berkeley College. Through high school, Benson has made the CT All-State Festival four times, all being first chairs. He was Principal tuba for the inaugural year of the National Youth Wind Ensemble and the Carnegie Hall HPS Series Band. He has also been awarded prestigious orchestral fellowships at Interlochen, Idyllwild, and Brevard. In addition to his orchestral and wind ensemble endeavors, he was unanimously awarded first place at the ITEA's International Tuba Solo Competition and Third Place at the American Protege Winds and Brass Competition. Throughout his musical endeavors, he has studied tuba with Tony Clements, David Winer, and James Gourlay.
Julia Chen YSE '24
Julia Chen is a first year Master of Forestry student in the Yale School of the Environment. Hailing from the Bay Area, Julia was a previous member of the UC Berkeley Wind Ensemble and University of California Marching Band. Outside of playing tuba, Julia can be found hiking or taking in the woods of New England.
Greg Wolf TD '26
Piano
Serina Wang SY '26
Serina plays the piano and is a first year in Saybrook College.
Percussion
Madeline Chun SM '26
Madeline plays percussion and is a first year in Silliman College.
Jacob Leshnower GH '27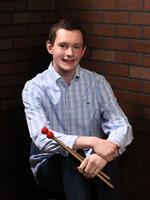 Jacob Leshnower is a first-year percussionist in Grace Hopper College from Long Island, New York, and plans to study Music and Statistics & Data Science. He began playing piano at the age of two and percussion in the fourth grade. Jacob has performed on percussion with the NAfME All-National Symphony Orchestra and NAfME All-Eastern Symphonic Band, and on piano with the New York All-State Symphonic Band. He was also a finalist in NPR's radio show From The Top and appeared in NPR's "Daily Joy" feature. In the summers, Jacob has participated in the Juilliard Summer Percussion Seminar & Masterclass Series, the Boston University Tanglewood Institute, and the NYU Sandbox Percussion Seminar. Outside of music, Jacob enjoys competing in Rubik's cube competitions and juggling.
John Raskopf PC '27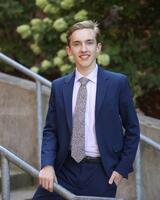 John is a freshman percussionist in Pierson College. As a prospective music major, he can be found in various groups across campus, including the Glee Club, the Spizzwinks(?), and, of course, the YCB! He's also a composer and has had works performed by the Dallas Brass and the World Youth Honors Choir at Interlochen. When he's not practicing or writing, he likes to watch Broadway bootlegs, go for long contemplative walks, give massages*, and talk about English grammar.
*Yes, there's a wait list. Yes, you can be on it.
Nikolai Stephens-Zumbaum BF '26
Nikolai plays percussion and is a first year in Benjamin Franklin college. He is majoring in mechanical engineering and plays soccer and tennis outside of school.
Max Su SY '25
Max plays percussion and is a sophomore in Saybrook College.
Tally Vaneman GH '27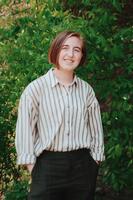 Tally is a first-year in Grace Hopper who hopes to major in astrophysics with a side of chemistry. They've been playing percussion since 5th grade in a variety of ensembles, but their favorite was their high school percussion ensemble where they played "Manah Manah." When they're not in rehearsal (which is a lot of the time!) they complete numerous PSets, spend time at the Dow Center, and stay up far too late talking with their suitemates. Feel free to contact Tally if you have a dog that needs petting!
Zahra Virani SY '27