Yale Concert Band Roster 2021-2022
Piccolo
Salena Huang GSAS '26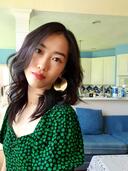 Salena is a PhD student from Houston in the Department of Mechanical Engineering and Materials Science. She has been playing flute for over 16 years. Outside of music, she also enjoys sewing, photography, and learning new languages.
Flute
Rosa Kleinman BF '23, Principal
Rosa Kleinman is a junior in Benjamin Franklin college studying Economics and Math. She is from northern New Jersey and has been playing flute for 11 years. When not practicing, she can be found working on p-sets in various libraries on campus or spending time outdoors.
Emily He DC '24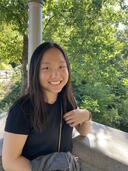 Emily He is a sophomore in Davenport College majoring in Molecular, Cellular, and Developmental Biology on a pre-med track. Emily grew up in the Hyde Park neighborhood of Chicago and has been playing the flute for ten years. She was a member of the Chicago Youth Symphony Orchestra for six years and enjoys ensemble playing more than anything else. When she is not in band rehearsal or researching cancer immunotherapies, you can find her painting and watching horror movies.
Seb Seager SM '23
Seb Seager is a junior in Silliman College pursuing a double major in Computer Science and Molecular Biophysics and Biochemistry (MB&B). He played the flute for six years before coming to Yale—in his high school bands, All-Area and All-State groups, and at competitions with the Houston Flute Club. When not in YCB rehearsal or working on a pset, he enjoys researching electron microscopy and protein imaging, going on walks, and joining friends for a movie night.
Yaa Owusu JE '22

Yaa is a junior in Jonathan Edwards College pursuing a joint major in computer science and psychology. Before coming to Yale, she played the flute, piccolo, and alto saxophone in various ensembles, and also sang in choral groups. She joined the YCB her first semester at Yale because she was excited to have the opportunity to continue to develop her skills as a musician even though she chose to pursue a non-music related major. In addition to the Yale Concert Band, she participates in the Jonathan Edwards College Council, Code Haven, and is the Co-Head of the Yale Daily News Tech Team. Besides playing the flute, she loves to bike, watch movies with friends and try out new recipes!
Katherine Handler TC '22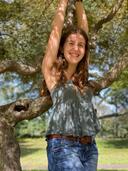 Katie is a rising senior in Trumbull College majoring in Ecology and Evolutionary Biology. She is currently taking time off from school and is working at a veterinary hospital before getting ready to apply to vet school. Katie has been playing flute for 13 years and served as one of YCB's social chairs last year. One of her fondest Yale memories is getting late night chai with the band! In addition to playing with the YCB, she loves being a member of pit orchestras. In her free time, you can find Katie either hiking in the woods, buying pens for her bullet journal, or watching Heartland, a television show about horses.
Elijah Bakaleynik DC '24
"I've never seen the Icarus story as a lesson about the limitations of humans. I see it as a lesson about the limitations of wax as an adhesive." - R. Munroe Cynical optimist, disillusioned engineering major (who needs quantum physics anyways?), irresponsible flautist and pianist. Avid player of 6-hour board games and DnD (presently lawful good dwarf sage gunslinger). Aspiring climber and self-taught programmer (Python is best) with strong opinions on hardware and Arduinos. Rest of the time spent with good sci-fi. Forward unto dawn.
Denise Peng '25
Oboe
Miranda Margulis-Ohnuma BR '23, Principal
Ana Rodrigues BR '25
Ryan Tie-Shue SM '22
Zara Ashford SY '25
Eb Clarinet
Bb Clarinet
Jalen Li PC '23, Principal Clarinet Chair
Jalen is a junior in Pierson planning to major in S&DS and Econ. He has played the clarinet for seven years in orchestras, concert bands, marching bands, and pit orchestras. When not playing clarinet, listening to music or psetting, Jalen enjoys meals + walks with friends, exercise, and combat sports. Despite being from Florida, he far prefers crisp fall and winter weather to heat and humidity. You can find Jalen saying hi to everyone's dogs, staying in dining halls past closing, and falling off his bike at various places around campus.
Benjamin Swinchoski BF '24
Daphne Zhu ES '22, Principal Clarinet Chair
Joshua Rothbaum TD '23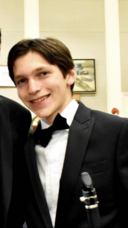 Joshua Rothbaum is a sophomore Applied Mathematics major in Timothy Dwight College. He was born and raised in Great Neck, NY, and has been playing the clarinet for ten years. He is also a passionate fan of the New York Mets and Roger Federer, and is an avid tennis player. When he's not making or listening to music, Josh can most often be found watching movies or playing blitz chess online between the hours of 11 pm and 6 am.
Jessica Liu GH '25
Daniel Denney ES '24
Kayleigh Hackett SY '25
Bb Bass Clarinet/Contrabass
Margalit Patry-Martin GH '25
Bassoon (seating TBD)
Pax Ryan BK '25, 
Katia Osorio YSM '22
Alto Saxophone
Tony Ruan BF '25, Principal

Hello! I'm a first-year in Benjamin Franklin College and originally from Phoenix, AZ. Outside of the YCB, I spend my time missing my dog, Taro, and biking around campus!
Sahil Mane TC '24
Matthew Fan BF '24

Matthew is a sophomore alto saxophonist in Benjamin Franklin College majoring in Molecular, Cellular and Developmental Biology. Outside of band, he pursues research at the School of Medicine and volunteers at HAVEN Free Clinic. In his free time, he enjoys going on bike rides and walks with friends, and you can catch him watching any Philly sports game that's on T.V. year-round.
Dennis Lee DC '24
Dennis Lee is a sophomore in Davenport College majoring in Ethics, Politics, and Economics as well as Mathematics and Philosophy. He is from Starkville, Mississippi. He has been playing saxophone for eight years. When Dennis is not making music, he enjoys going to concerts and operas, reading philosophy, and watching anime (more than he is willing to admit).
Alina Martel TC '23

A proud Minnesotan and Trumbullian, I enjoy all things band and STEM at Yale! When I'm not in Hendrie Hall with the YCB or YPMB, you can find me in Bass Library, walking up Science Hill, or studying in the TC dining hall. In addition to music and neuroscience, my interests include writing poetry, running, reading, and making a mean cup of 5AM coffee (early birds unite!). Of all that I have experienced at Yale, my experiences with the Yale Bands community have been some of the most incredible and fulfilling; the hike up the Hendrie stairs is worth it!
Bb Tenor Saxophone
Aaron Yu MC '25, Principal
Esteban Figueroa MC '25
Eb Baritone Saxophone
Michael Chen GH '23
Cornet
James Brandfonbrener MC '22, Principal

I'm music(!) major in Morse and this is my last year at Yale. I play trumpet in the concert band, and I am also a retired YPMB trumpet section leader and YCB librarian. I am also a proud "old" person in band, since I've been here for 1/8 of the years that Mr. Duffy has been the band director.
Ethan Olim MY '25
Jordan Romano TC '25
Trumpet
Izzy Lopez MY '23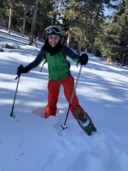 I'm a sophomore from Lakewood, Colorado, majoring in MB&B. Besides concert band, I play trumpet in the YPMB and a salsa band called Tertulia. When I'm not making music, I also participate in the women's club basketball team and enjoy going to the gym! My favorite pastime is hiking and spending time with my family.
French Horn (rotating)
Ava Conway YSM '22
Stephanie Fritz YSM '23
Torrin Hallett YSM '23
Kyle Thompson YSM '22
Keenan Miller DC '24

Keenan is a sophomore in Davenport College intending to major in English and psychology. He was born and raised in Juneau, Alaska, and has been playing horn since seventh grade. Keenan can often be found sleeping on floors and tables in random campus buildings, running to or from the divinity school labyrinth (which takes him exactly 200 steps to walk), or wandering through Sterling pretending a nice little walk will help him focus on work. His all-time favorite concert band piece is Eric Whitacre's Lux Aurumque.
Trombone
Theo Haaks BR '24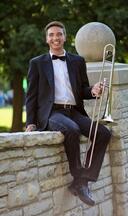 Theo Haaks is a sophomore trombonist in Branford College planning to major in Political Science with a concentration in Urbanism. Outside of YCB, Theo is engaged in Yale Dems and works for New Haven City Plan through the Dwight Hall Urban Fellowship. In his free time, Theo enjoys reading (especially in his hammock), spending time with friends, seeking out tasty food, and being outdoors!
Aaron Smith BF '25
Cody Uman MC '25

Cody is a first year in Morse College, from Pittsford NY. They're a prospective math major and are also interested in foreign languages and literature. Along with playing trombone in Concert Band, Cody also plays sousaphone in the Yale Precision Marching Band. In their free time, they like to hang out with friends, run, and make origami!
Euphonium
John Liu TD '25, Principal
Tuba
Bridget Conley YSM '23
Vivian Kung YSM '22
Vivi Kung (she/her/hers) is a second generation Taiwanese American tuba player studying at the Yale School of Music. Ms. Kung has performed with the Los Angeles Philharmonic, Symphoria Orchestra, and on stage at Warner Brothers Studios. She has also performed with the Blue Devils Drum and Bugle Corps, securing a contract at the age of 17 and winning a world championship at 19. Most recently, Ms. Kung was a winner in the brass division of the 37th Pasadena Showcase House Instrumental competition. In 2019, Ms. Kung was the national winner of the Music Teacher's National Association brass division. In the same year, she won third prize in the IWBC Susan Slaughter tuba solo competition. In 2018, she was the Young Artist winner of the Northwestern Tuba and Euphonium conference solo competition. Her teachers include Aubrey Foard, John Rojak, and Carol Jantsch.
Piano
Noah Vinogradov TC '25
(Elijah Bakaleynik DC '24)
Harp
Bass
Percussion
Jacob Gutierrez YSM '22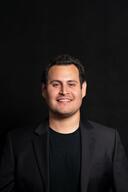 Percussionist and teaching artist Jacob Gutierrez is crafting a career model of a true 21st century musician. With experience ranging from his touring percussion trio to performances at the Kennedy Center, Gutierrez is charting a career path of entrepreneurialism in tandem with award-winning musicianship. Gutierrez has performed with recognized artists and ensembles including the Yale Percussion Group, Caroline Shaw, So Percussion, Magda Giannikou, The Cadets Drum & Bugle Corps, and has appeared in international festivals and organizations such as Canada's Pacific Region International Summer Music Academy, the Space City New Music Festival, the So Percussion Summer Institute, and the Sam Houston Percussion Academy. Furthermore, as a member of The Cadets, he was named as part of the country's top drum corps percussion section in 2013, receiving the Fred Sanford Percussion Award. Gutierrez remains active in soliciting new music—he is a member of several consortiums to commission new works. His career includes performances of percussion's most celebrated works, including Kaija Saariaho's "Six Japanese Gardens", Joseph Schwantner's "Velocities", and Alejandro Vinao's "Book of Grooves". Now based in New Haven, Gutierrez is pursuing a Master of Musical Arts diploma from the Yale School of Music studying with renowned percussionist Robert Van Sice.
Etai Smotrich-Barr DC '25
Max Su SY '25