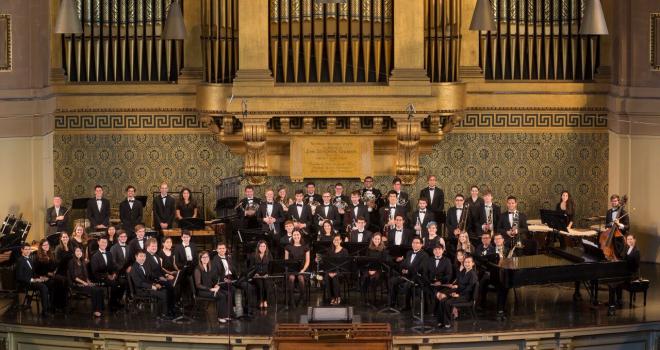 Thomas C. Duffy, Music Director
Stephanie Hubbard, Business Manager

The Yale Concert Band, a group of 45-50 wind, brass, and percussion players, embraces the aesthetics of the traditional wind band and the contemporary experimental ensemble. Our repertoire consists of a panoply of wind band classics; premieres by and commissions of Yale students, faculty and established world-class composers; and the newest wind band literature that incorporates electro-acoustic sounds, folk/rock/hiphop music, soloists, and theatrical trappings.

Our music has been exported around the world - in the last year, the Yale Concert Band has performed in concert halls in the Baltics, and two years ago, performed in New York City's Carnegie Hall and Bethesda's Strathmore Hall. In 1959, the Yale Concert Band became the first college band to produce an international tour, and, since then, has appeared in concerts in Japan, South Africa, Swaziland, Mexico, Brazil, Bermuda, Russia, Finland, the Czech Republic, Austria, Spain, Ireland, England, France, Italy, Denmark, Germany, Holland, Belgium, Lithuania, Latvia, Estonia, Ghana, and Greece.

 

June 30, 2017:
Click here for audition information and required excerpts for the Yale Concert Band. 

Potential Members: Check out the FAQ for a basic idea as to who we are and what we do.  Email us to get in contact with the director, the business manager, or one of our officers.

The 2017-18 Concert Schedule and Rehearsal Schedule will be posted in the coming weeks. Please check back.